All 32 local authorities across Scotland have chosen to freeze council tax following a Scottish Government commitment to compensate those who do so.
Finance Secretary Kate Forbes said:
"With people facing unprecedented challenges and extra pressures, now is a time to work together to provide stability and certainty.
"In the budget for the year ahead I took the significant step of providing £90 million to support a national council tax freeze, giving local authorities the option to support families while ensuring there would be no impact on vital local services.
"I am pleased that councils have taken advantage of this additional support and have protected household finances. This will make a real difference to people across Scotland.
"I have also confirmed that the funding provided this year to support the council tax freeze will be maintained in local authority budgets going forward, providing additional certainty to local government."
As part of the 2021-22 Scottish Budget, Finance Secretary Kate Forbes allocated £90 million – the equivalent of around a 3% council tax increase – on top of the local government settlement to compensate councils who choose to freeze their council tax.
This is part of the £11.6 billion of funding from the Scottish Government that will be distributed to individual local authorities in 2021-22.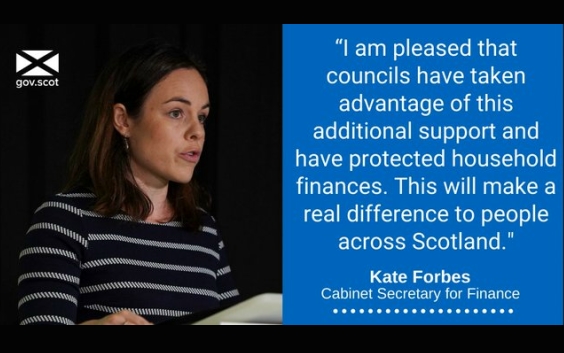 Article Source: https://blogs.gov.scot/scotlands-economy/2021/03/11/council-tax-frozen/
Associated Links:

SCOT GOV WEBSITE www.gov.scot
SCOT GOV TWITTER twitter.com/scotgov
SCOT GOV FACEBOOK www.facebook.com/TheScottishGovernment
SCOT GOV INSTAGRAM www.instagram.com/scotgov/
SCOT GOV YOU TUBE www.youtube.com/channel/UCrQPfnt2X3fef95kqVqYqAA
SCOTTISH POLITICS NEWS SOCIAL MEDIA:
TWITTER twitter.com/scopoliticsnews
FACEBOOK www.facebook.com/ScottishPoliticsNews
IMAD SCOTLAND GROUP LINKS:
TWITTER www.twitter.com/imadscotland
FACEBOOK www.facebook.com/imadscot
YOU TUBE www.youtube.com/user/IMADsco
WEBSITE imadscotlandgroup.com