First Minister Nicola Sturgeon has now published the Referendum Bill and set the Scottish independence referendum date for 19 October 2023.
(Article Below from yes.scot)
Source: https://www.yes.scot/the-worlds-eyes-are-on-scotland/
After pro-independence parties won a record result in the 2021 election, there is a clear mandate for an independence referendum.
Watch our video below setting out the facts.
1️⃣ Scottish Tory leader: "a vote for the SNP is a vote for another independence referendum"
2️⃣ Scotland votes for #indyref2.
3️⃣ Another independence referendum.

🏴󠁧󠁢󠁳󠁣󠁴󠁿 Scotland will have a choice. Pledge your support at https://t.co/bkLETLnJTB. pic.twitter.com/iorBoMRpvk

— Yes (@YesScot) June 28, 2022
As Scotland readies itself to choose its own future, media from across Europe and the world have their eyes on Scotland.
It's increasingly clear that the world recognises Scotland's clear mandate for a referendum – and we've pulled together a selection of international coverage here.
🇫🇷 France
France's biggest newspaper Le Monde has published this article – you can read it here, in French or in English.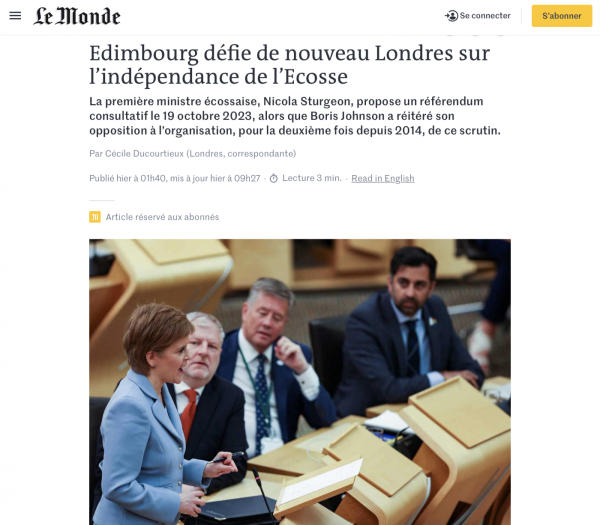 🇦🇹 Austria
Austrian broadsheet newspaper Die Presse says "Boris Johnson's Conservative British government tore Scotland out of the Commonwealth against its will and led the rest of Britain into a deep crisis". Read the article here.
🇩🇪 Germany
Germany's English-language news service Deutsche Welle also published an article about the October 2023 referendum. Read it here.
🇮🇹 Italy
Italian public broadcaster RAI News also covered the announcement, and talked about how Scotland being dragged out of the EU justifies a fresh independence referendum. Read the article.
🇪🇸 Spain
Spain's major broadsheet newspaper El Pais also covered Nicola Sturgeon's referendum date announcement, and reported the "landslide victory" in the 2021 Scottish election. Click here to read the article.
🇦🇺 Australia
Australia's public broadcaster ABC News has also reported on the referendum announcement and stressed "there is a majority for a new independence vote". Read the article here.
🇺🇸 United States of America
One of the USA's biggest and oldest newspapers, The Washington Post, reports that "much has changed in recent years, including Britain's departure from the European Union. The majority of Scots voted to stay in the bloc."
Read the article.