This is the results page for the Scottish Parliament Elections held on the 6th of May 2021.
The SNP will form the next Scottish Government – a historic fourth consecutive win for the party.
Pro Independence parties also carried a majority of seats with the SNP and Greens winning 72 of the 129 seats in the parliament.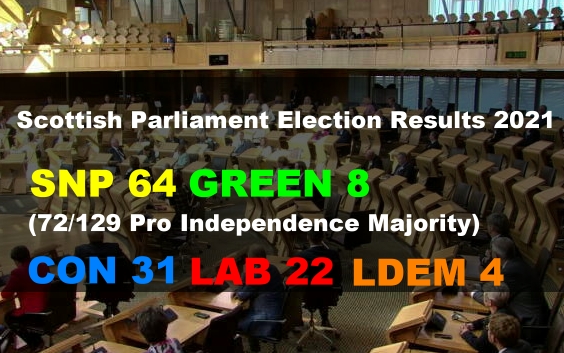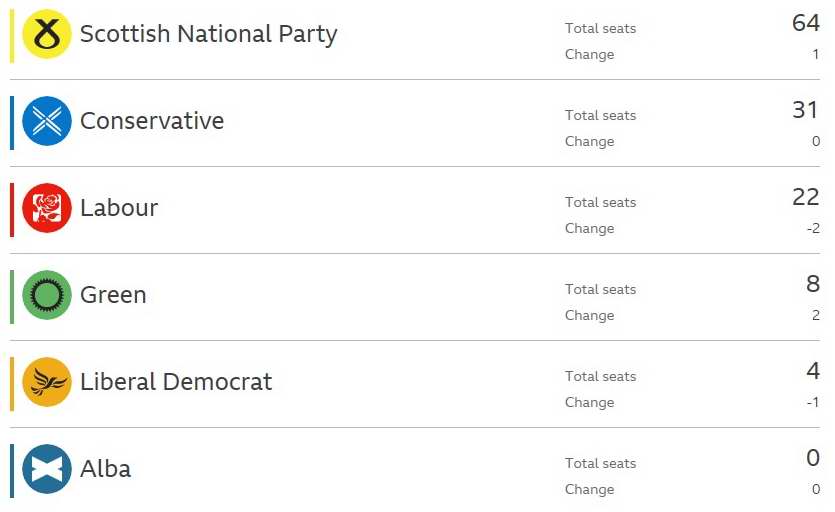 Orkney Islands (Highlands & Islands) Constituency Vote:
LIB DEM HOLD – Liam McArthur MSP
LDem 7238 (62.4%, -5.4)
SNP 3369 (29.1%, +5.2)
Con 699 (6%, +1.9)
Lab 290 (2.5%, -0.4)
Aberdeen Donside (North East) Constituency Vote:
SNP HOLD – Jackie Dunbar MSP
SNP 18514 (51.6%, -4.4)
Con 9488 (26.4%, +8.0)
Lab 5505 (15.3%, -3.0)
LDem 2162 (6%, -1.3)
Clydebank and Milngavie (West) Constituency Vote:
SNP HOLD – Marie McNair MSP
SNP 17787 (47.2%, -2.0)
Lab 12513 (33.2%, +9.7)
Con 4153 (11%, -7.3)
LDem 2987 (7.9%, -1.0)
Others 220 (0.6%, +0.6)
Na h-Eileanan an Iar (Highlands & Islands) Constituency Vote:
SNP HOLD – Alasdair Allan MSP
SNP 7454 (51.4%, -0.7)
Lab 4013 (27.7%, +2.1)
Con 2116 (14.6%, +3.2)
Others 571 (3.9%, -4.9)
LDem 353 (2.4%, +0.2)
#SP21
Perthshire North (Mid & Fife) Constituency Vote:
SNP HOLD – John Swinney MSP
SNP 19860 (49.5%, +0.9)
Con 15807 (39.4%, +0.6)
Lab 2332 (5.8%, -1.8)
LDem 1802 (4.5%, -0.5)
Family Party 334 (0.8%, +0.8)
Dundee City West (North East) Constituency Vote:
SNP HOLD – Joe Fitzpatrick MSP
SNP 19818 (61.6%, +3.8)
Lab 6899 (21.5%, -4.6)
Con 3327 (10.3%, +0.2)
LDem 1269 (3.9%, +0.3)
TUSC 432 (1.3%, -1)
Restore Scotland 410 (1.3%, +1.3)
Banffshire & Buchan Coast (North East) Constituency Vote:
SNP HOLD – Karen Adam MSP
SNP 14920 (45.2%, -9.9)
Con 14148 (42.9%, +10.7)
Lab2169 (6.6%, -1.7)
LDem 1071 (3.2%, -1.3)
Freedom Alliance 347 (1.1%, +1.1)
Restore Scotland 331 (1%, +1)
Kilmarnock & Irvine Valley (South) Constituency Vote:
SNP HOLD – Willie Coffey MSP
SNP 21418 (52.7%, -2.7)
Lab 9737 (24%, +1.1)
Con 8295 (20.4%, +1.2)
LDem 919 (2.3%, -0.3)
Libertarian ~ 253 (0.6%, +0.6)
Glasgow Anniesland (Glasgow) Constituency Vote:
SNP HOLD – Bill Kidd MSP
SNP 17501 (52.8%, +1)
Lab 10913 (32.9%, +2.4)
Con 3688 (11.1%, -2.9)
LDem 1063 (3.2%, -0.6)
Falkirk East (Central) Constituency Vote:
SNP HOLD – Michelle Thomson MSP
SNP 18417 (47.4%, -4)
Lab 10832 (27.9%, +2)
Con 7618 (19.6%, +0.1)
LDem 1007 (2.6%, -0.6)
Independent ~ 971 (2.5%, +2.5
East Lothian (South) Constituency Vote:
SNP GAIN – Paul McLennan MSP
SNP 17968 (39.2%, +4.4)
Lab 16789 (36.7%, -1.1)
Con 9470 (20.7%, -3.2)
LDem 1556 (3.4%, -0.1)
Angus North and Mearns (North East) Constituency Vote:
SNP HOLD – Mairi Gougeon MSP
SNP 17144 (48.6%, +2.9)
Con 13635 (38.7%, +1.4)
Lab 2686 (7.6%, -1.8)
LDem 1804 (5.1%, -2.6)
Coatbridge and Chryston (Central) Constituency Vote:
SNP HOLD – Fulton MacGregor MSP
SNP 20577 (57.5%, +9.5)
Lab 11140 (31.1%, -3.5)
Con 3028 (8.5%, -1.7)
LDem 622 (1.7%, +0.2)
Family Party ~ 411 (1.1%, +1.1)
Caithness, Sutherland & Ross (Highlands & Islands) Constituency Vote:
SNP HOLD – Maree Todd MSP
SNP 15,889 (43.1%, -0.2)
LDem 13,298 (36.1%, -5.0)
Con 5,170 (14.0%, -1.3)
Lab 2,016 ( 5.5%, -4.9)
Shetland Islands (Highlands & Islands) Constituency Vote:
LIB DEM HOLD – Beatrice Wishart MSP
LDem 5803 (48.6%, -18.8)
SNP 4997 (41.9%, +18.8)
Con 503 (4.2%, +0.5)
Lab 424 (3.6%, -2.3)
Independent ~ 116 (1%, +1)
Restore Scotland ~ 90 (0.8%, +0.8)
Glasgow Southside Constituency Vote:
SNP HOLD – Nicola Sturgeon MSP
SNP 19735 (60.2%, -1.2)
Lab 10279 (31.3%, +8.5)
Con 1790 (5.5%, -7)
LD 504 (1.5%, -1.8)
FA 204 (0.6%, 0.6)
Ind (Energy) 147 (0.4%, 0.4)
Lib 102 (0.3%, 0.3)
Ind (Fascist) 46 (0.1%, 0.1)
North East Fife (Mid & Fife) Constituency Vote:
LIB DEM HOLD – Willie Rennie MSP
LDem 22163 (55.1%, +11.2)
SNP 14715 (36.6%, +2.9)
Con 2323 (5.8%, -10.8)
Lab 1056 (2.6%, -3.3)
Glasgow Maryhill and Springburn (Glasgow) Constituency Vote:
SNP HOLD – Bob Doris
SNP 16428 (59%, +3.4)
Lab 8504 (30.5%, -1.3)
Con 2241 (8%, -1.7)
LDem 688 (2.5%, -0.5)
Airdrie & Shotts (Central) Constituency Vote:
SNP HOLD – Neil Gray MSP
SNP 16139 (50.6%, -2)
Lab 10671 (33.4%, +4.2)
Con 4422 (13.9%, -1.8)
LDem 562 (1.8%, -0.8)
Independent ~ 132 (0.4%, 0.4)
Hamilton, Larkhall and Stonehouse (Central) Constituency Vote:
SNP HOLD – Christina McKelvie MSP
SNP 16761 (46.2%, -2.1)
Lab 12179 (33.6%, +4.1)
Con 6332 (17.5%, -1.9)
LDem 1012 (2.8%, -0.1)
Ettrick, Roxburgh and Berwickshire (South) Constituency Vote:
CON HOLD – Rachael Hamilton MSP
Con 18564 (51.5%, -3.7)
SNP 11701 (32.5%, +0.7)
LDem 2352 (6.5%, -1.2)
Lab 2050 (5.7%, +0.4)
Green 1084 (3%, +3)
Ind 290 (0.8%, +0.8)
Clackmannanshire and Dunblane (Mid & Fife) Constituency Vote:
SNP HOLD – Keith Brown MSP
SNP 16504 (47.2%, -0.3)
Con 8953 (25.6%, +2.4)
Lab 8292 (23.7%, -1.2)
LDem 1194 (3.4%, -0.8)
Stirling (Mid & Fife) Constituency Vote:
SNP HOLD – Evelyn Tweed MSP
SNP 19882 (48.6%, +0.9)
Con 12987 (31.8%, +3.7)
Lab 6556 (16%, -4.1)
LDem 1466 (3.6%, -0.6)
Linlithgow (Lothian) Constituency Vote:
SNP HOLD – Fiona Hyslop MSP
SNP 22693 (48.4%, -2)
Lab 12588 (26.9%, +0.7)
Con 9472 (20.2%, +0.2)
LDem 2126 (4.5%, +1.1)
Paisley (West) Constituency Vote:
SNP HOLD – George Adam MSP
SNP 17495 (50%, +0.2)
Lab 11420 (32.7%, +0.5)
Con 3342 (9.6%, -2.4)
Green 1584 (4.5%, +4.5)
LDem 1124 (3.2%, -2.8)
Strathkelvin & Bearsden (West) Constituency Vote:
SNP HOLD – Rona Mackay MSP
SNP 21064 (45.5%, +2)
Con 9580 (20.7%, -2.1)
Lab 8510 (18.4%, -2.7)
LDem 6675 (14.4%, +2)
Family Party ~ 415 (0.9%, 0.9)
Renfrewshire North and West (West) Constituency Vote:
SNP HOLD – Natalie Don MSP
SNP 17704 (46.4%, -1.4)
Lab 10397 (27.2%, +3.7)
Con 8734 (22.9%, -1)
LDem 933 (2.4%, -0.4)
Family Party ~ 410 (1.1%, +1.1)
Rutherglen (Glasgow) Constituency Vote:
SNP HOLD – Clare Haughey MSP
SNP 20249 (50.5%, +4.3)
Lab 15083 (37.6%, +2.8)
Con 3663 (9.1%, -2.2)
LDem 1112 (2.8%, -4.9)
Glasgow Pollock Constituency Vote:
SNP HOLD – Humza Yousaf MSP
SNP 18163 (53.7%,-1.1)
Lab 11058 (32.7%,+1.1)
Con 1849 (5.5%,-4)
Grn 1651 (4.9%,+4.9)
LDem 522 (1.5%,-0.5)
UKIP 185 (0.5%,-1.4)
LBT 157(0.5%,+0.5)
REC 114(0.3%,+0.3)
Ind 94(0.3%,+0.3)
Cowdenbeath (Mid Scotland and Fife) Constituency Vote:
SNP HOLD – Annabelle Ewing MSP
SNP 16499 (48.3%, +2.2)
Lab 10486 (30.7%, -5.2)
Con 4758 (13.9%, -0.4)
Green 1344 (3.9%, +3.9)
LDem 1088 (3.2%, -0.5)
Ayr (South) Constituency Vote:
SNP GAIN – Siobhian Brown MSP
SNP 18881 (43.5%, +2.4)
Con 18711 (43.1%, +0.1)
Lab 4766 (11%, -3.1)
LDem 808 (1.9%, nc)
Scotia Future ~ 267 (0.6%, +0.6)
Argyll & Bute (Highlands & Islands) Constituency Vote:
SNP HOLD – Jenni Minto MSP
SNP 16608 (49.5%, +3.5)
Con 7645 (22.8%, +3)
LDem 6874 (20.5%, -5.2)
Lab 2436 (7.3%, -1.2)
Skye, Lochaber & Badenoch (Highlands & Islands)
SNP HOLD – Kate Forbes MSP
SNP ~ 24192 (56.1%, +8.5)
Conservative ~ 8331 (19.3%, +3.2)
Lib Dem ~ 6778 (15.7%, -7.1)
Labour ~ 3855 (8.9%, -1.5)
Kirkcaldy (Mid & Fife) Constituency Vote:
SNP HOLD – David Torrance MSP
SNP 18417 (52.4%, -0.2)
Lab 10586 (30.1%, +1.3)
Con 4891 (13.9%, -0.8)
LDem 1015 (2.9%, -1)
Edinburgh Western (Constituency) Vote:
LIB DEM HOLD – Alex Cole-Hamilton MSP
LDem 25578 (54.7%, +12.8)
SNP 15693 (33.5%, -0.9)
Con 2798 (6%, -8.3)
Lab 2515 (5.4%, -4.1)
Libertarian ~ 201 (0.4%, 0.4)
Greenock & Inverclyde (West) Constituency Vote:
SNP HOLD – Stuart McMillan MSP
SNP 19713 (54.2%, +0.5)
Lab 11539 (31.7%, +4)
Con 3313 (9.1%, -5)
LDem 1033 (2.8%, -1.6)
Ind 776 (2.1%, 2.1)
Moray (Highlands & Islands) Constituency Vote:
SNP HOLD – Richard Lochhead MSP
SNP 19987 (48.6%, +1.5)
Con 16823 (40.9%, +2.4)
Lab 2972 (7.2%, -3.4)
LDem 1165 (2.8%, -1)
UKIP 188 (0.5%, +0.5)
Inverness & Nairn (Highlands & Islands) Constituency Vote:
SNP HOLD – Fergus Ewing MSP
SNP 21793 (47.7%, -0.6)
Con 12679 (27.7%, +7.8)
Lab 5370 (11.7%, -5.8)
LDem 2892 (6.3%, -7.9)
Green 2636 (5.8%, +5.8)
Restore Scotland ~ 361 (0.8%, +0.8)
Dumfriesshire (South) Constituency Vote:
CON HOLD – Oliver Mundell MSP
Con 19487 (47.7%, +10.3)
SNP 15421 (37.7%, +3.8)
Lab 4671 (11.4%, -13.8)
LDem 1314 (3.2%, -0.3)
Cunninghame South (West) Constituency Vote:
SNP HOLD – Ruth Maguire MSP
SNP 15208 (50.5%, -1.7)
Lab 7256 (24.1%, -6)
Con 6621 (22%, +6.6)
LDem ~ 715 (2.4%, nc)
Independent ~ 318 (1.1%, +1.1)
Cunninghame North (West) Constituency Vote:
SNP HOLD – Kenneth Gibson MSP
SNP 18227 (49%, -2.9)
Con 10451 (28.1%, +3.5)
Lab 7536 (20.3%, -0.8)
LDem 967 (2.6%, +0.2)
Edinburgh Central (Lothian) Constituency Vote:
SNP GAIN – Angus Robertson MSP
SNP 16276 (39%, +10.4)
Con 11544 (27.7%, -2.8)
Lab 6839 (16.4%, -5.7)
Grn 3921 (9.4%, -4.2)
LDem 2555 (6.1%, +1.2)
Ind ~ 363 (0.9%, +0.9)
LBT ~ 137 (0.3%, nc)
UKIP ~ 78 (0.2%, 0.2)
Midlothian North & Musselburgh (Lothian) Constituency Vote:
SNP HOLD – Colin Beattie MSP
SNP 21165 (49.7%, +0.8)
Lab 13259 (31.1%, +2.6)
Con 6521 (15.3%, -2.8)
LDem 1630 (3.8%, -0.7)
Aberdeen Central (North East) Constituency Vote:
SNP HOLD – Kevin Stewart MSP
SNP 14217 (44.9%, +1.3)
Con 7623 (24.1%, +1.5)
Lab 6294 (19.9%, -7.4)
Green 2087 (6.6%, +6.6)
LDem 1417 (4.5%, -2)
Eastwood (West) Constituency Vote:
CON HOLD – Jackson Carlaw MSP
Con 17911 (41.9%, +6.3)
SNP 15695 (36.8%, +5.5)
Lab 6759 (15.8%, -14.7)
Ind 1352 (3.2%, +3.2)
LDem 911 (2.1%, -0.4)
UKIP ~ 75 (0.2%, +0.2)
Edinburgh Southern (Lothian) Constituency Vote:
LAB HOLD – Daniel Johnson MSP
Lab 20760 (45.9%, +10.3)
SNP 16738 (37%, +4.4)
Con 5258 (11.6%, -14.4)
LDem 2189 (4.8%, -1)
Family Party ~ 317 (0.7%, +0.7)
Dumbarton (West) Constituency Vote:
LAB HOLD – Jackie Baillie MSP
Lab 17825 (46.3%, +6.1)
SNP 16342 (42.5%, +2.6)
Con 3205 (8.3%, -6.2)
LDem 676 (1.8%, -1.6)
Ind (Morrison) ~ 183 (0.5%, +0.5)
Libertarian ~ 134 (0.3%, +0.3)
Ind (Muir) ~ 94 (0.2%, -1.7)
Motherwell and Wishaw (Central) Constituency Vote:
SNP HOLD – Clare Adamson MSP
SNP 18156 (53.2%, +0.6)
Lab 10343 (30.3%, -0.9)
Con 4472 (13.1%, -0.6)
LDem ~ 557 (1.6%, -1)
Libertarian ~ 254 (0.7%,+ 0.7)
Communist ~ 194 (0.6%, +0.6)
UKIP ~ 173 (0.5%, +0.5)
Aberdeenshire East (North East) Constituency Vote:
SNP HOLD – Gillian Martin MSP
SNP 18307 (44.6%, -1.2)
Con 16418 (40%, +11)
LDem 3396 (8.3%, -10.7)
Lab 2900 (7.1%, 0.9)
Aberdeen South & North Kincardine (North East) Constituency Vote:
SNP HOLD – Audrey Nicoll MSP
SNP 16500 (42.3%, +0.2)
Con 14829 (38%, +4.5)
Lab4505 (11.5%, -5.8)
LDem 2889 (7.4%, +0.3)
Libertarian ~ 286 (0.7%, +0.7)
Renfrewshire South (West) Constituency Vote:
SNP HOLD – Tom Arthur MSP
SNP 17532 (50.5%, +2.4)
Lab 10426 (30%, -3.2)
Con 5149 (14.8%, -1.2)
LDem 826 (2.4%, -0.3)
Scotia Future ~ 765 (2.2%, +2.2)
Dundee City East (North East) Constituency Vote:
SNP HOLD – Shona Robison MSP
SNP 19230 (59.2%, +1.2)
Lab 5893 (18.1%, -1.6)
Con 5630 (17.3%, -0.1)
LDem 1431 (4.4%, +1.2)
TUSC ~ 287 (0.9%, -0.7)
Perthshire South & Kinross-shire (Mid & Fife) Constituency Vote:
SNP HOLD – Jim Fairlie MSP
SNP 20126 (45.7%, +3.3)
Con 18178 (41.2%, +2.8)
Lab 2943 (6.7%, -2.7)
LDem 2823 (6.4%, -1.9)
Cumbernauld & Kilsyth (Central) Constituency Vote:
SNP HOLD – Jamie Hepburn MSP
SNP 19633 (58.6%, -1.5)
Lab 9792 (29.2%, +2.6)
Con 3375 (10.1%, -0.8)
LDem 678 (2%, -0.4)
Uddingston & Bellshill (Central) Constituency Vote:
SNP HOLD – Stephanie Callaghan MSP
SNP 17953 (49.9%, 1+.1)
Lab 12647 (35.1%, +2.6)
Con 4569 (12.7%, -3.2)
LDem 821 (2.3%, -0.5)
Carrick, Cumnock & Doon Valley (South) Constituency Vote:
SNP HOLD – Elena Whitham MSP
SNP 15240 (42.8%, -3.6)
Con10903 (30.6%, +6.4)
Lab8604 (24.2%, -3.3)
LDem 875 (2.5%, +0.4)
Glasgow Provan Constituency Vote:
SNP HOLD – Ivan McKee MSP
SNP 15913 (52.9%, -1.7)
Labour 8683 (28.9%, -5.8)
Con 2687 (8.9%, +0.4)
Green 2366 (7.9%, +7.9)
LDem 421 (1.4%, -0.8)
Mid Fife & Glenrothes (Mid & Fife) Constituency Vote:
SNP HOLD – Jenny Gilruth MSP
SNP 18115 (55.4%, +1)
Lab7881 (24.1%, -1.4)
Con 4500 (13.8%, -1.7)
LDem 1789 (5.5%, +1)
Family Party ~ 385 (1.2%, +1.2)
Almond Valley (Lothian) Constituency Vote:
SNP HOLD – Angela Constance MSP
SNP 22675 (54.3%, +1.3)
Lab 10545 (25.2%, -3.7)
Con 6952 (16.6%, +1.4)
LDem 1601 (3.8%, +0.9)
Dunfermline (Mid & Fife) Constituency Vote:
SNP HOLD – Shirley-Anne Somerville MSP
SNP 20048 (49%, +5.6)
Lab 11384 (27.8%, -1.7)
Con 6314 (15.4%, -2.2)
LDem 3196 (7.8%, -1.8)
Angus South (North East) Constituency Vote:
SNP HOLD – Graeme Dey MSP
SNP 19568 (50.7%, +1.8)
Con 13451 (34.8%, -0.6)
Lab 3625 (9.4%, -2.4)
LDem 1964 (5.1%, +1.3)
Glasgow Cathcart Constituency Vote:
SNP HOLD – James Dornan MSP
SNP 21728 (57%, +4.1)
Lab 11332 (29.7%, +7.5)
Con 4041 (10.6%, -4.1)
LDem 1051 (2.8%, -2.8)
Galloway & West Dumfries (South) Constituency Vote:
CON HOLD – Finlay Carson MSP
Con 17486 (47%, +3.5)
SNP 14851 (39.9%, +0.9)
Lab 2932 (7.9%, -6.7)
Green 970 (2.6%, +2.6)
LDem 948 (2.5%, -0.3)
Clydesdale (South) Constituency Vote:
SNP HOLD – Màiri McAllan MSP
SNP 17596 (43.2%, -0.7)
Con 13018 (32%, +5.7)
Lab 8960 (22%, +1.3)
LDem 1144 (2.8%, +0.4)
Glasgow Shettleston Constituency Vote:
SNP HOLD – John Mason MSP
SNP 17465 (54.4%, -1.5)
Lab 9440 (29.4%, +2.3)
Con 4421 (13.8%, +1.4)
LDem 774 (2.4%, +0.2)
East Kilbride (Central) Constituency Vote:
SNP HOLD – Collette Stevenson MSP
SNP 21149 (51.9%, -4.1)
Lab 12477 (30.6%, +6.4)
Con 5923 (14.5%, -2.4)
LDem 1217 (3%, +0.1)
Aberdeenshire West (North East) Constituency Vote:
CON HOLD – Alexander Burnett MSP
Conservative ~ 19709 (47.2%, +9.1)
SNP ~ 16319 (39.1%, +3.6)
Lib Dem ~ 3363 (8.1%, -12.6)
Labour ~ 2382 (5.7%, -0.1)
Edinburgh Pentlands (Lothian) Constituency Vote:
SNP HOLD – Gordon Macdonald MSP
SNP 16227 (42.4%, +2.9)
Con 12330 (32.3%, +0.1)
Lab 6998 (18.3%, -5.1)
LDem 2213 (5.8%, +0.9)
Family Party ~ 462 (1.2%, +1.2)
Glasgow Kelvin Constituency Vote:
SNP HOLD – Kaukab Stewart MSP
SNP 14535 (40.3%, +1.8)
Green 9077 (25.2%, +0.9)
Lab8605 (23.9%, +2.9)
Con 2850 (7.9%, -3.9)
LDem 977 (2.7%, -1)
Midlothian South, Tweeddale & Lauderdale (South) Constituency Vote:
SNP HOLD – Christine Grahame MSP
SNP 19807 (46%, +1)
Con 12981 (30.2%, +1.6)
Lab 5410 (12.6%, -3.5)
LDem 2615 (6.1%, -4.3)
Green 2154 (5%, +5)
Vanguard ~ 67 (0.2%, +0.2)
Edinburgh Eastern (Lothian) Constituency Vote:
SNP HOLD – Ash Denham MSP
SNP 22658 (52.4%, +5.1)
Lab 12541 (29%, -3.9)
Con 5970 (13.8%, -2.3)
LDem 2035 (4.7%, +1.1)
Edinburgh Northern & Leith (Lothian) Constituency Vote:
SNP HOLD – Ben Macpherson MSP
SNP 22443 (47.9%, +1.2)
Lab 10874 (23.2%, -5.3)
Green 6116 (13.1%, +13.1)
Con 5052 (10.8%, -5.6)
LDem 2035 (4.3%, -0.4)
Freedom Alliance 314 (0.7%, +0.7)
REGIONAL LIST SEATS
Glasgow Region List Vote:
SNP 133917 (43.9%, -0.9)
Lab 74088 (24.3%, +0.5)
Con 37027 (12.1%, +0.2)
Grn 36114 (11.8%, +2.4)
LDem 6079 (2%, -0.4)
Alba 5408 (1.8%, +1.8)
AFU 2562 (0.8%, +0.8)
Others 9749 (3.2%, -4.5)
Glasgow List MSPs Elected:
1. Labour
2. Labour
3. Conservative
4. Green
5. Labour
6. Labour
7. Conservative
Central Scotland Region List Vote:
SNP 148399 (45.3%, -2.4)
Lab 77623 (23.7%, -1.1)
Con 59896 (18.3%, +2.2)
Grn 19512 (6%, +1.3)
LDem 6337 (1.9%, +0.1)
Alba 5345 (1.6%, +1.6)
AFU 2712 (0.8%, +0.8)
Others 7668 (2.3%, -2.5)
Central Scotland List MSPs Elected:
1. Labour
2. Conservative
3. Labour
4. Conservative
5. Labour
6. Conservative
7. Green
Lothian Region List Vote:
SNP 141478 (35.9%, -0.4)
Con 78595 (19.9%, -3)
Lab 76689 (19.4%, -1.3)
Grn 49984 (12.7%, +2.1)
LDem ~ 28433 (7.2%, +1.6)
Alba 6141 (1.6%, +1.6)
AFU 2423 (0.6%, +0.6)
Others 10633 (2.7%, -1.2)
Lothian List MSPs Elected:
1. Conservative
2. Green
3. Conservative
4. Labour
5. Conservative
6. Labour
7. Green
Highlands & Islands Region List Vote:
SNP 96413 (40.4%, +0.6)
Con 60779 (25.4%, +3.7)
LDem 26771 (11.2%, -2.1)
Lab 22713 (9.5%, -1.6)
Grn 17729 (7.4%, +0.2)
Alba 3828 (1.6%, +1.6)
AFU 1540 (0.6%, +0.6)
Others 9057 (3.8%, -3.1)
Highlands & Islands List MSPs Elected:
1. Conservative
2. Conservative
3. Labour
4. Conservative
5. Green
6. Conservative
7. SNP
North East Scotland Region List Vote:
SNP ~ 147910 (40.9%, -3.7)
Con ~ 110555 (30.6%, 2.6)
Lab ~ 41062 (11.4%, -1.3)
Grn ~ 22735 (6.3%, +1.4)
Lib Dem ~ 18050 (5%, -1)
Alba ~ 8269 (2.3%, +2.3)
AFU ~ 2561 (0.7%, +0.7)
Others ~ 10090 (2.8%, -1)
North East List MSPs Elected:
1. Conservative
2. Labour
3. Conservative
4. Conservative
5. Green
6. Conservative
7. Labour
Mid Scotland & Fife Region List Vote:
SNP ~ 136825 (39.8%, -1.5)
Con ~ 85909 (25%, -0.2)
Lab ~ 52626 (15.3%, -2.3)
Green ~ 28654 (8.3%, +2.2)
LD ~ 25489 (7.4%, +0.4)
Alba ~ 5893 (1.7%, +1.7)
AFU ~ 2578 (0.7%, +0.7)
Others ~ 6085 (1.8%, -1)
Mid & Fife List MSPs Elected:
1. Conservative
2. Conservative
3. Labour
4. Green
5. Conservative
6. Labour
7. Conservative
West Scotland Region List Vote:
SNP 152671 (40.4%, -1.8)
Lab 83775 (22.2%, -0.3)
Con 82650 (21.9%, -0.3)
Grn 26632 (7.1%, +1.7)
LDem 13570 (3.6%, -0.2)
Alba 6133 (1.6%, +1.6)
AFU 3372 (0.9%, +0.9)
Others 8895 (2.4%, -1.6)
West List MSPs Elected:
1. Labour
2. Conservative
3. Labour
4. Conservative
5. Green
6. Labour
7. Conservative
South Scotland Region List Vote:
SNP 136741 (37.6%, -0.7)
Con 121730 (33.5%, +1.4)
Lab 57236 (15.7%, -2.1)
Green 18964 (5.2%, +0.5)
LDem 12422 (3.4%, -0.3)
Alba 3896 (1.1%, +1.1)
AFU 5521 (1.5%, +1.5)
Others 7338 (2%, -1.4)
South List MSPs Elected:
1. Labour
2. Conservative
3. Labour
4. Conservative
5. Conservative
6. SNP
7. Labour
ASSOCIATED LINKS:
BBC SCOTLAND FULL RESULTS: https://www.bbc.co.uk/news/topics/c37d28xdn99t/scottish-parliament-election-2021
BBC SCOTLAND ELECTION REPORT – Scottish election 2021: Nicola Sturgeon celebrates 'historic' SNP election win
https://www.bbc.co.uk/news/uk-scotland-scotland-politics-57038039
Here's what the new political map of Scotland looks like following #SP21 #BBS21

SNP ~ 64 Seats (+1), split 62 Constituencies, 2 List
Conservative ~ 31 (nc), split 5C, 26L
Labour ~ 22 (-2), split 2C, 20L
Green ~ 8 (+2), all 8L
Lib Dem ~ 4 (-1), all 4C pic.twitter.com/I0cEozr655

— Ballot Box Scotland (@BallotBoxScot) May 8, 2021
FURTHER DETAILED INFO & STATS
WIKIPEDIA
https://en.wikipedia.org/wiki/2021_Scottish_Parliament_election
SCOTTISH PARLIAMENT WEBSITE
https://www.parliament.scot/msps/elections/2021-election-results